Pelling, in West Sikkim, won my heart. We stayed at a place called Ifseen Villa, about a kilometre and a half away from the one-street town of Pelling. And I loved the place. Outside our balcony were lemon trees, and in the distance, the magnificent Khangchendzonga* range.
On each of the three mornings we spent there, I woke up with a fluttering sense of excitement. Pelling inspired me, though I cannot quite lay my finger on why. It was beautiful, fresh and free.
(I discovered in Pelling, by the way, that when the weather is very cold, my ball pen does not work! In the absence of a heater, my travel writing had to be paused because yes, I do still write in a book before I blog.)
We did all the touristy things around town and quite enjoyed them too. We visited Yuksam*, the first capital of Sikkim, and learned about the legend of the pine tree that stands tall behind the coronation throne at Norbugang. The tree is said to be linked to the royal family of Sikkim – if a branch touches the ground, someone in the royal family dies.
Norbugang speaks to me of history, of a place infused with myth and stories that have seeped into the soil there. Monks, kings, nature … The place has power.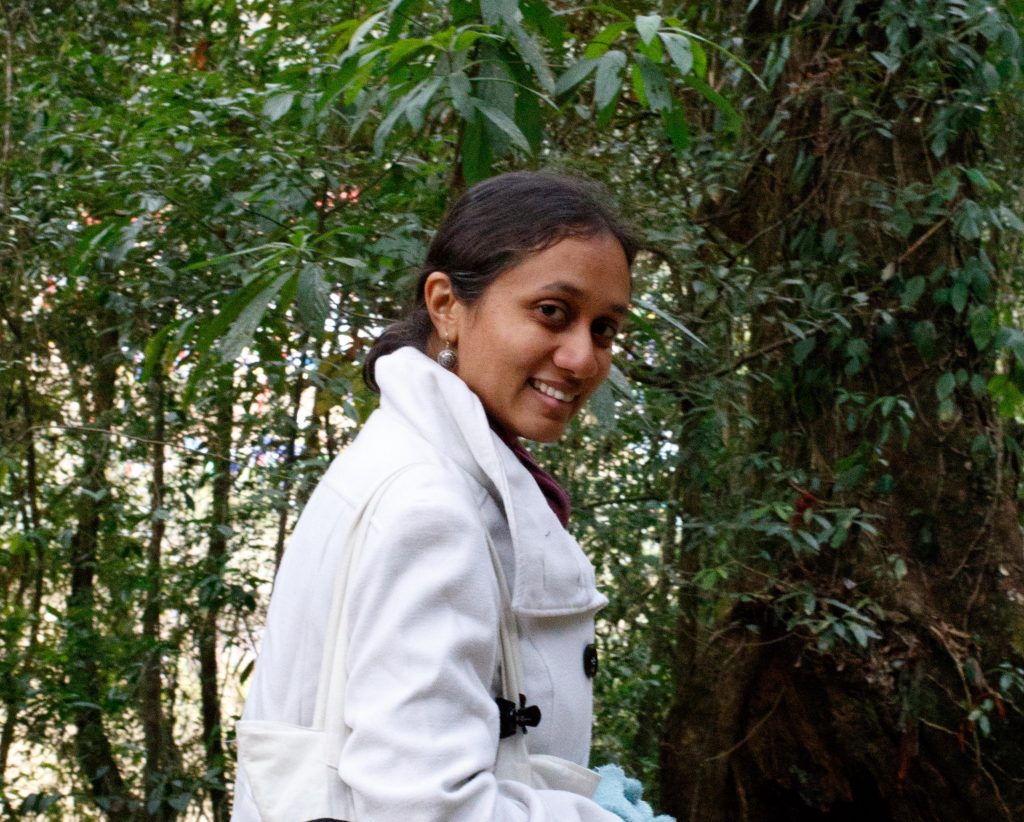 On the other hand, Pelling's new tourist attraction, the skywalk, was a bit of a letdown for me. It is not at a great enough height to be frightening, plus we were asked to take off our shoes at the head of the skywalk. In that cold, walking on glass in my socks was not pleasant at all!
I loved the calm of Khechuperi* Lake. We rotated the prayer wheels as we made our way towards the water and later, we climbed up to a viewpoint to see the entire lake. If I'd been alone, I'm sure I would not have been motivated to climb – I'm no trekker! But in a group, with everyone encouraging everyone else, it was lovely to be up there, looking down at the trees and the water.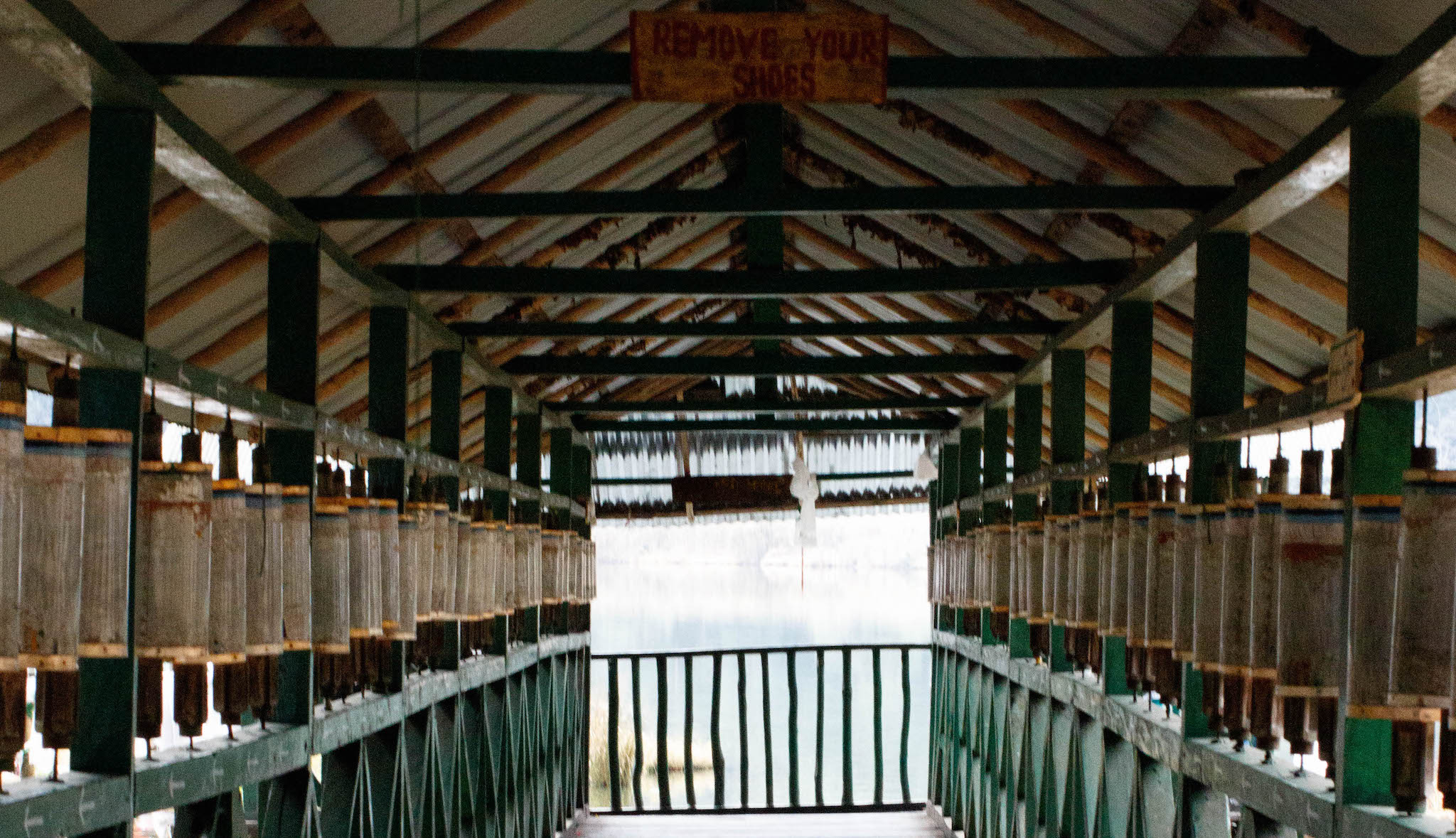 There's a house at the viewpoint too, and a little place that sells coffee and tea. Standing there, I couldn't help thinking, yet again, about how cushy our urban lives are. I found it hard to trek up there once; I cannot imagine going up and down regularly!
Rabdentse, the second capital of Sikkim, was probably the place I enjoyed the most. Walking through forested land to the ruins of the old palace was lovely! The aviary did not interest me at all – I don't like seeing birds in cages – but the whole of Rabdentse is a bird sanctuary. With all those trees, how could it not be? We heard bird calls everywhere, and we had all the time in the world to stand and take the beauty in.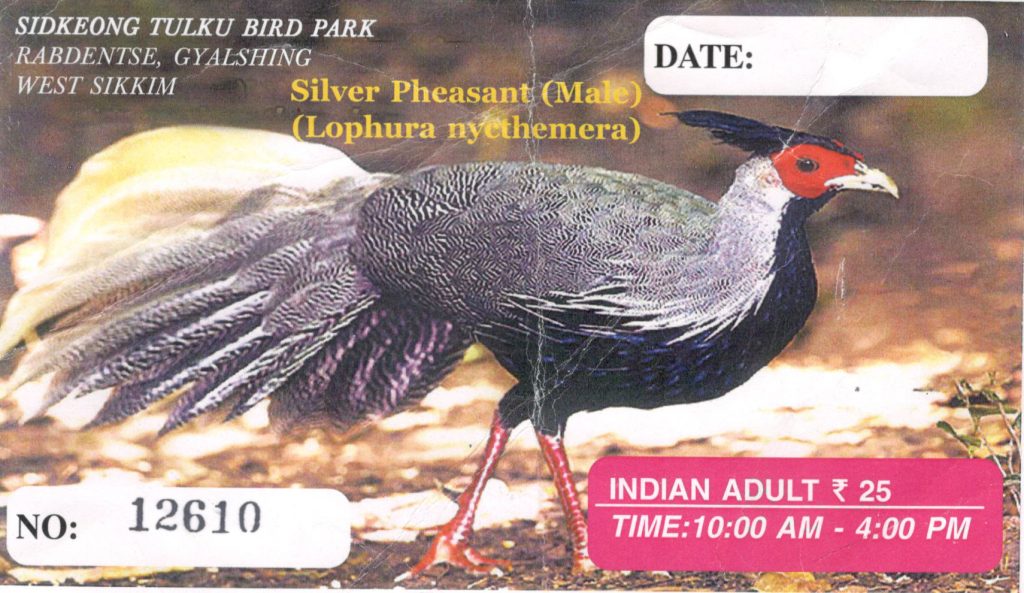 Back at Ifseen Villa, it was time to bid goodbye to Sikkim. It had been more than kind to us, overwhelming us over and over again with its splendour. I wonder if and when I will visit again. I want to, I really want to. But then, there are so many places to see, and so little time …
I wonder.
*All these names are spelled in various ways. Khangchendzonga could be Kanchendzonga, Kanchenjunga, Khanchenjunga …
Yuksam could be Yoksum, Yuksom, Yoksem … I chose 'Yuksam' because at Dubdi Monastery in Yuksam, the spelling has been corrected to this.
Khechuperi, on our ticket, is Khecheodpalri. I chose the first spelling because of most of the signboards on the way spell it that way.