Kieran is one of only two male Reception class teachers on the Isle of Wight.
His days mainly consist of singing nursery rhymes, tying shoelaces, trying to locate who has had an 'accident' by sense of smell alone, and vast, endless mountains of paperwork. 

Author profile on Goodreads
Aren't you interested already? Writing good author bios is an art. I remember the first one I had to write. I spent a day agonising over it and then asked my father to do it. He was much amused – I never ask for writing help – and he did it in three minutes.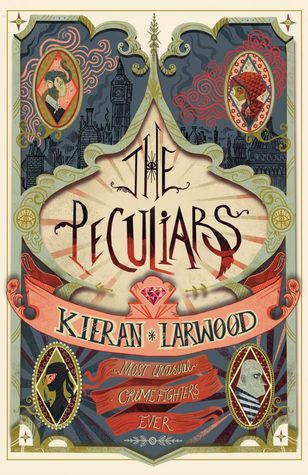 The Peculiars intrigued me for many reasons.
The cover, of course, is lovely.
Secondly, I do like Chicken House as a publisher. I like the fact that at the back of the book, they tell you which page to read to give the book a try. (I never do it, but I like the idea anyway.)
And I love the three words they choose to describe the book. Hot Key books do that too.
Then, I read the note from the publisher Barry Cunningham about how the book used to be called Freaks, but Chicken House went back to Kieran Larwood's original title. I did a double-take. I remembered vividly the cover of Freaks, and it did not look like my kind of book at all.
I'm glad they went back to the original title – because The Peculiars is my kind of book. There were parts I skimmed over because I wanted the story to keep moving, but overall, I loved it. I loved the idea of the Peculiars – odd people on display at a Victorian sideshow. Sheba the Wolfgirl, Sister Moon the ninja, Mama Rat and her babbies (not a typo, no), stinky Monkeyboy with his tail, and Gigantus the huge man who is secretly a novelist – what a wonderful range of characters! And little Till, who barely features in the story at all, but is still central to it because she offers friendship without judgment. 
History, mystery, adventure – that's what the back cover promises. The Peculiars has all three in full measure!
| | |
| --- | --- |
| Title | The Peculiars |
| Author | Kieran Larwood |
| Genre | History, mystery, adventure |
| Rating (out of 5) | 4 |
| Age-group | 10+ |