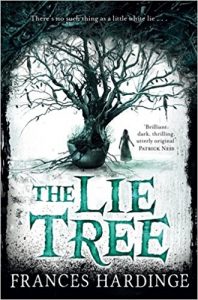 The Lie Tree looked fascinating, but I wondered if it was my kind of book. Everyone who was quoted on the cover said it was 'dark' and compelling, and I cannot say that I am a fan of dark literature. I get scared too easily, and I don't enjoy getting scared.
I decided to borrow it anyway and it was only when I got it home that I noticed that it was by Frances Hardinge.
I've read two books by her – A Face like Glass, which was gripping, and Fly by Night, which is famous, but not one that I enjoyed as much. If I'd read Fly by Night first, I may not have picked p anything else by Hardinge. But A Face like Glass was impressive, so The Lie Tree could go either way.
It went the right way.
For one, I found the protagonist superb. I can't say I loved her because that really isn't what the book wants. Faith Sunderly is too complex for that. She is a rebel who does not appear to be one. She is a secret activist in the Victorian age, and she does not quite know it yet. Living in her father's shadow, she is determined to win his approval. She is also harshly critical of her mother and all her coy ploys. Finally, that's how patriarchy works, right?
When Faith discovers that her father had in his possession a Mendacity Tree, she thinks that she has found a way to answer all the questions that torment her. If you feed the tree with lies, you can learn secrets that are otherwise beyond your reach. The problem, though, is that Faith's lies spiral out of control because her lies take on a life of their own …
A gripping read, I loved the power of the female characters in The Lie Tree. In an age when they needed to appear powerless, each one finds a channel for rebellion, which created for me a sense of triumph.
And finally, I love Faith's ambition in life – she wants to be a bad example.
| | |
| --- | --- |
| Title | The Lie Tree |
| Author | Frances Hardinge |
| Genre | Historical/Murder/Fantasy |
| Rating (out of 5) | 5 |
| Age-group | 13+ |