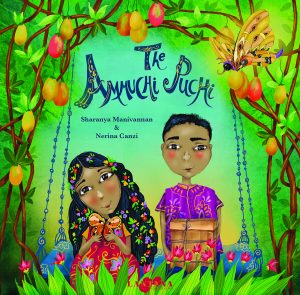 I've been looking at books from Lantana Publishing for a while, and I want to read so many of them! The books look gorgeous and for the most part, receive glowing reviews too. When I discovered that The Ammuchi Puchi is being offered as a free ebook in times of Corona, I sank my teeth in.
Stories about grief are important. I wrote about Boo! When My Sister Died, a book that deals with death and love. The Ammuchi Puchi is another beautiful book that addresses the difficult topic of death in a book for children.
Aditya and Anjali used to be slightly scared of their grandmother, their Ammuchi. Her teeth were stained with red betelnut juice and she told them frightening stories about ghosts.
Soon, though, the children began to enjoy the stories, and contribute to them too. Ammuchi, they realised, was special. On Anjali's birthday, Ammuchi gives her a beautiful butterfly-shaped brooch, promising with a chuckle that Aditya will get something equally special when his turn comes.
On Aditya's tenth birthday, however, Ammuchi is in hospital. She stays in hospital for another two weeks and then she dies.
But then something very special happens. A butterfly, exactly like the brooch Ammuchi gifted Anjali shows up, and the children know that the puchi (insect) is Ammuchi herself.
The gorgeous illustrations in this picture book, fill it with colour and life. The Ammuchi Puchi is as vibrant as Ammuchi herself, bursting with the same life and energy. The stunning pictures and the gentleness of the story make the book a treasure.
Title
The Ammuchi Puchi
Author
Illustrator
Sharanya Manivannan
Nerina Canzi
Tags
Picture book, grief, family
Rating (out of 5)
4
Age-group
4+