What a powerful, beautiful book.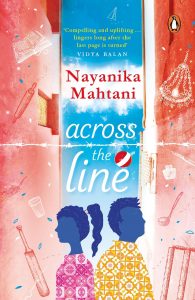 Across the Line is one of the South Asia Book Award Honor Books 2020. I was intrigued by the title and the cover image, but I didn't know anything about the book, except that it was South Asian, probably Indian. And the name naturally suggested to me the partition.
I was not wrong.
And yet, Across the Line is much more. It's about the cultural baggage we continue to carry, so many years after India was divided.
The story begins in 1947 when the line was drawn, dividing the nation. Mountbatten chose to leave India to its mess, even though he knew that a bloody massacre was likely to follow.
The story alternates between New Delhi and Rawalpindi, tracing the lives of two families that happen to be in the wrong place at the wrong time.
And then, before we know the whole story of the characters we meet in August 1947, we move to the more recent past: to the year 2008. As readers, we know that the stories of the past will link with the new characters we meet. When we encounter Jai, we make the connection immediately, for his Badi Ma is Toshi, whom we met as a child in Rawalpindi. We know there will be more, that all the people in the story will somehow be connected to the people we met so long ago. Even so, as the story unfolds, we are taken by surprise.
More than once, I had a painful lump in my throat. More than once, tears pricked my eyes because the story came alive to me.
Across the Line is full of characters – Habib, Irfan, Inaya, Toshi, Jai, Rajan, Arathi, and I'm sure I've left out a few – and each one feels real. None of them is a bare sketch, a rough outline. They are people, linked by family and by history.
For me, Across the Line touches a chord because of the kindness and forgiveness we find amongst the people who were hit hard by the partition. More, the journey that Nayanika Mahtani takes us on across time and geography makes us feel like we are looking at a bigger picture, one that we do not easily encounter in our own personal lives. As narrative threads come together, the reader is left with a sense of bitter sweetness, as if life has, somehow, come full circle.
| | |
| --- | --- |
| Title | Across the Line |
| Author | Nayanika Mahtani |
| Tags | Middle-grade, historical, partition |
| Rating (out of 5) | 5 |
| Age-group | 11+ |