I've lost count of the number of times people have asked me when we're performing in Pune. Finally, here we go!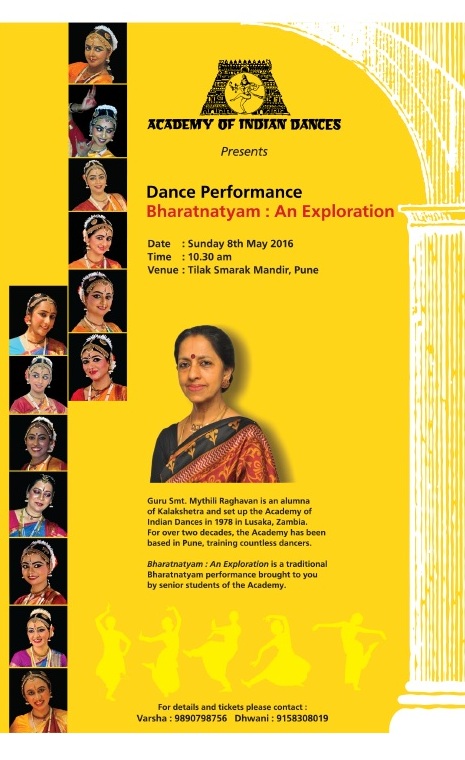 The senior students of the Academy of Indian Dances bring to you a traditional Bharatanatyam programme, featuring a range of pieces that explore nritta, nritya and natya. Beginning with an invocatory dance, we move on to a pure nritta composition, raagamaalikai jatiswaram.
The longest and most elaborate piece compares the lives of Rama and Krishna, exploring the abhinaya aspect of Bharatanatyam to the fullest. The devotee wonders which of the two gods to worship.
Krishna was born in a dark prison in the middle of the night; Rama was born in the grandeur of a palace, amidst great joy!
As a child, Krishna gave moksha to two gandharvas. The pure-hearted Rama granted salvation to Ahalya.
Krishna snatched Rukmini away from her brother and married her; Rama broke Shiva's powerful bow and won Sita's hand in marriage.
The stories go on. The two gods – so different, yet so similar. How will the devotee know whom to praise?
Presenting …
Bharatanatyam: An Exploration
Day and Date: Sunday, 8th May, 2016
Venue: Tilak Smarak Mandir, Pune
Tickets: Rs 300 (almost sold out), Rs 200 and Rs 100