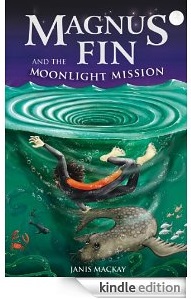 If you watched and loved Captain Planet as a child, I know you will feel as warmly about Magnus Fin and the Moonlight Mission as I did. When I watched the heroism and drama of Captain Planet, I loved the idea of people getting together to save the world. This book feels something like that.
The downside of the book is how it begins, though. When I started reading it, I found it rather painstaking. As I went on, though, I realised how much of a problem I experience with first chapters. Sometimes, however hard I work them, first chapters are not perfect. I may edit, rewrite and edit again, but still not feel happy. I may force myself to be satisfied, but somehow, the punch is lacking.
Magnus Fin and the Moonlight Mission waslike that. The beginning was dull. I wondered if I would finish it. Then, just two chapters later, I felt the characters grow on me. I felt the story become close to my heart. I did not find the 'save the world' ideal naive and cliche. On the contrary, I loved the approach and the very real aspects of being a child growing up near the sea – half-selkie or regular human.
Short chapters, real characters and real-yet-fantastic setting – I ended up enjoying all of it!