Here is what my next two weekends look like!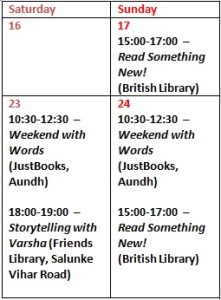 Workshop Details
Weekend with Words:
Age-group: 9-12
Registration Fee: Rs. 500
Read Something New!
Age-group: 8-12
Registration fee: Rs. 1,200 for members; Rs. 2,200 for non-members (complimentary six-month gold membership with each registration)
Storytelling with Varsha:
Postponed from 15th August 2014 to 23rd August 2014
Age-group: 5-8
Free entry!