What makes Mythili Maami special? Why have so many of us been with her for two decades and longer? Why did we not leave the Academy of Indian Dances and set up on our own like so many other dancers?
The answer lies in a story that each one of us is only too willing to share.
My teacher has her stories too – of learning to dance and sing, of being chosen to say the prayers at school, of sitting on a train and hugging her bag all the way to Patna from Chennai … She has stories about Kalakshetra and stories about Australia. She talks to us about her experiences with teachers like Gowri Pati, Pushpa Teacher and Jaya Teacher.
Stories must find their way into a book some day – and this one took root when my father said that we must all write it. We took our time, but released it for Maami's 70th birthday. It's here, and I can't quite believe it!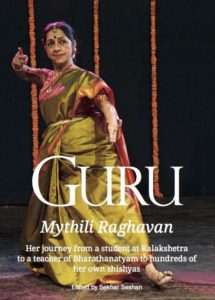 Contact me if you'd like to buy a copy. Proceeds from sales go to the Academy!