Lots of books on my blog this week: that's what happens when I do a workshop for the British Library's Reading Challenge!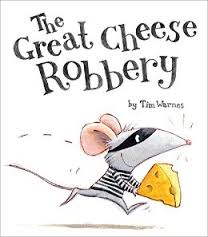 The Great Cheese Robbery was a delightful picture book that brought back memories of Disney's "Dumbo". I remember the first time I watched "Dumbo" and saw the elephants shriek at the sight of a mouse. I chuckled at the movie as a child, and the same images came back to me as I read this book!
When I started reading The Great Cheese Robbery, I was already prejudiced towards it simply because so many children who had enrolled for the reading challenge enjoyed it so much. When children like a picture book, what other endorsement does it need?
Two things about the book charmed me: the illustrations and the delightfully innocent Patrick Elephant. If I'd read this book as a child, Patrick Elephant would have been one of my favourite characters ever. He knows his daddy is the strongest, bravest elephant, but what happens when a mouse pretending to be a cheese inspector comes to steal their cheese? And worse, what happens when the mouse comes with an army of mice to steal the whole fridge?
| | |
| --- | --- |
| Title | The Great Cheese Robbery |
| Author | Tim Warnes |
| Genre | Picture Book |
| Rating (out of 5) | 4 |
| Age-group | 4+ |