Last year, I conducted a reading workshop at Atta Galatta, and I knew I had to go back there and do something else! The place is perfect, the ambiance charming and the children I met were lovely.
So now it's time to do something else, something new! Conducting the Writers' Club at St. Mary's School has shown me how much I enjoy working with children who enjoy writing. It's full of imagination, whacky ideas and magic!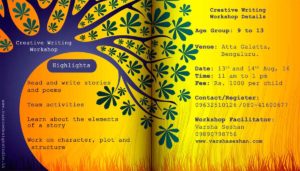 Creative Writing Workshop for Children
Age-group: 9-13
Venue: Atta Galatta, Bengaluru
Dates: 13th and 14th August, 2016
Time: 11 am to 1 pm
Fees: Rs. 1,000 per participant
Contact me for more details or to register!