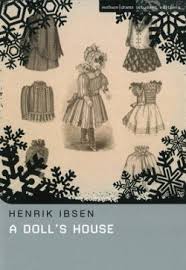 I love how time changes the way I read a play. I read A Doll's House. Again.
I imagined how it would be on stage.
I cringed, yes.
I closed my eyes, yes.
But I enjoyed it.
I read it cover to cover without needing a break. I did not worry about how good or bad a translation it is. I just saw it as it was – a play that has the power to make you squirm from the time the curtains are drawn open to the time the door is slammed shut.
And just about seven months ago, I wrote:
The Norwegian playwright I had never heard of – that's how I once began to read the play. It was far more powerful than Ghosts, and far more interesting than An Enemy of the People. I wonder why I made those judgements.
Now, I cringe at so much more and wonder about how good the translation is. That's what studying English does to you.
Yet, it's a strong play. It's one that I still read with the whole bag of emotions – anger, disgust and pride. Far more subtly woven than An Enemy of the People, it remains a story you remember.
I also wrote:
A Doll's House Review May 2013.