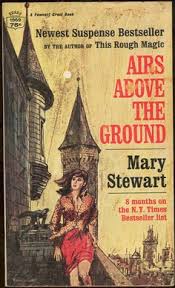 I remember quite enjoying Airs Above the Ground by Mary Stewart. Maybe I didn't like it as much as The Ivy Tree or Madam, Will You Talk? but I did enjoy it.
This time, I enjoyed the beginning.
The Spanish Riding School, the levade, Timothy in his awkward state between adolescence and adulthood… I smiled through all of it.
I liked the sudden unreliability of the narrative voice, the same technique that blew me over in The Ivy Tree.
I liked the balance between description and narration.
In fact, I think I liked the story till the husband makes an appearance.
Is it just me or is the novel too full of dramatic action and corny romance to be really enjoyable?