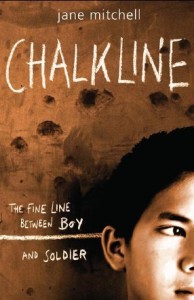 I recently read Neil Gaiman's views on escapism: I hear the term bandied about as if it's a bad thing. As if "escapist" fiction is a cheap opiate used by the muddled and the foolish and the deluded, and the only fiction that is worthy, for adults or for children, is mimetic fiction, mirroring the worst of the world the reader finds herself in. If you were trapped in an impossible situation, in an unpleasant place, with people who meant you ill, and someone offered you a temporary escape, why wouldn't you take it? And escapist fiction is just that: fiction that opens a door, shows the sunlight outside, gives you a place to go where you are in control …
And that's the way I feel when I leave a book like Jane Mitchell's Chalkline unfinished. I have nothing against the way it's written. It's powerful, hugely moving and terribly disturbing.
And that's just why I could not finish it.
Sometimes, I don't want to know about how badly children are treated. I don't want to look at how inhuman the world is. I don't want to know about badness and wickedness and evil.
I want to feel the sunshine, smell the rain and experience the joy of friendship, love and family in books. I want to see good.
And within the framework of that idea, Chalkline certainly did not fit.