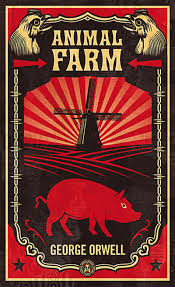 Animal Farm is the kind of book that I could read over and over again.
It was written in just a few months and it's less than a hundred pages long.
I was revolted and fascinated by it the first time I read it and I'm revolted and fascinated even now as I teach it. What a fabulous book it has to be to evoke a response time and time again! How rich it is, and yet, how simple!
When the pigs begin the gentle takeover, I squirm within, but believe how it could happen. I am enthralled (more than a little guiltily) by the very idea of their power. It's frightening how easy it is to manipulate the truth by abusing the language of power. It makes me shiver and shake my head. Succinct and complete – this one is most certainly a classic.