Venice was the place where we relaxed.
When we got there, we were told at the information booth at the station that there was no way we would find cheap accommodation in Venice at the weekend. The best we would get was a place that cost €65 a night for three people.
Okay, we said, okay. We'll be back.
We went to our old faithful, the International Youth Hostel Federation (IYHF) map and found a phone number. The YH cost €17,50 per head and accommodation was available; so there.
The line was unclear, but I heard clearly enough to get excited that we had to take boat number 82.
Boat number! We were in Venice, the place with the Rialto and the Merchant!
Thanks to the train strike, we had been dropped at Venezia Mestre instead of Venezia Centrale, so we had to take a bus before we could take a boat. Public transport is expensive in Venice, with no day passes or weekend passes. We paid €1,60 per ride on the bus and then €3,50 each for the boat! The bus ride was particularly disappointing. There was just land everywhere. Where were our canals with romantic gondolas? Where were the picturesque bridges of Venice?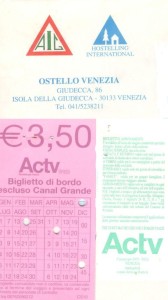 But then, the boat ride gave us everything we wanted, even though the boat was motorised. For the Venetians, perhaps travelling by boat was mundane. For us, the very idea of boats as public transport within a city was thrilling. We looked at everything, getting our fill of the charming bridges and touristy gondoliers who grinned and waved as we passed.
And Ostello Venezia – written in big block letters – was right there, on the canal. We tumbled out of the boat and into the red building. The people were lovely, the rooms were clean. What more could we want?
Why not flowers of every colour and description, and gondoliers singing as they went by?
Our room overlooked flowers hanging out of balconies in a narrow street. Step out of the hostel, and we were at a canal of Venice. Expensive public transport meant that we walked more, breathed more and felt more.
Ah, Venice, beautiful Venice!