I always judge a book by its cover, and this one said: Ancient witchcraft. Modern world. And then the title Witch Fire.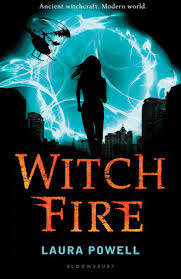 It intrigued me immediately, and it did not let me down. I did not do any research before I started reading. I did not find out whether Witch Fire was part of a series. As I read on, I realised that the book either had an awe-inspiring back-story, or it had a prequel. I only just discovered that the second is true, and therefore the first too.
Witch Fire makes a world come alive.
Lucas Stearne and Gloriana Starling are worlds apart, almost cruelly drawn together in the world of witchcraft. Fae is not something that one can choose to have, in the world of Witch Fire. Lucas, coming from a long line of Inquisitors, is nearly ashamed of possessing fae. Gloriana, on the other hand, delights in it, brought up as she is in an East End coven. Bravery, truth and circumstances throw these two unlikely characters together in a story that is filled with suspense and action. 
| | |
| --- | --- |
| Title | Witch Fire |
| Author | Laura Powell |
| Genre | Fantasy |
| Age-group | 12+ |
| Rating (on 5) | 4 |
With its details of political intrigue, believable organisations and cruel, yet comprehensible, legal structures, Witch Fire wove another layer into the fabric of the world I believe I know. Scenes in the novel sparkled with electricity. I enjoyed the development of setting more than anything else, with its attention to detail that makes all the difference.