The Academy of Indian Dances welcomes you to the Arangetram of Chaitrali, Diya and Purvi.
Chaitrali is a special girl with a hearing disability despite which she has persevered and come to this stage. Her Arangetram is a proud moment for her parents, her guru, and somehow by extension, all of us.
Diya and Purvi – hats off to them for their cooperation and support. Things have been different for them because they have the overwhelming responsibility of being better than ever and making no mistakes at all.
This Arangetram is certainly going to be memorable.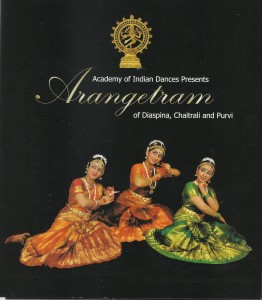 Venue: Tilak Smarak Mandir
Date: 10th August, 2014
Time: 5:30 pm