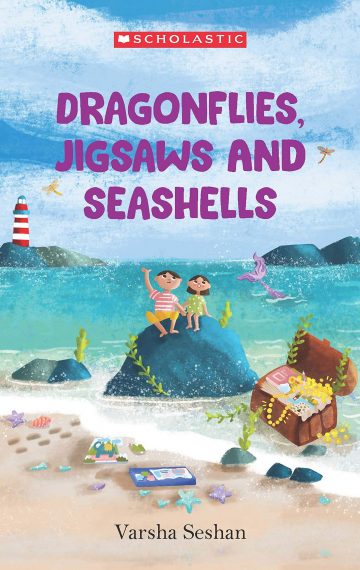 Rs. 249
Publisher:

Scholastic India

Edition:

Indian edition

Available in:

Paperback

ISBN:

978-9352759279

Published:

April 20, 2020
Buy Dragonflies, Jigsaws and Seashells (Scholastic India)
Buy Dragonflies, Jigsaws, and Seashells (Scholastic Asia)
Read about a magical creature collecting seashells, a boy befriending a bird, a colour-blind girl triumphing in art Class and many more… Heartwarming and sweet, this delightful collection of short stories explores the joy and wonder hidden in ordinary things.
This book was shortlisted for the Scholastic Asian Book Award 2016. The award honours the best of Asian writing in English.
Review
Book review by Sophie (Goodreads)
I loved all the stories in this book. I love how the stories give us just a glimpse of the lives of the characters, letting us see the world through their eyes, for just a minute, leaving an impression of sunlight and beauty. I loved how diverse the characters were; a boy with a stammer, a glassblower's daughter, a colour blind girl, a village boy, teachers; all of them with their unique dreams and desires. I think my two favourite stories were 'The glassblower's daughter' and 'Yash's friend'. I love the style of writing, so subtle, with no unnecessary words, but sp grounded in the senses. I knew exactly what the children sounded like and I was transported back to a school bus, a window overlooking a tree full of birds, or a classroom. These stories remind me of the simplicity and beauty of everyday life.
Excerpt
Tanaya stood on tiptoe, trying to peer into the school library. She could just about see the librarian, Mr Kaushik Natraj, sitting at his desk and scribbling furiously in a notebook.
'What?' asked Tanishq, who was too short to look for himself. He was bouncing with impatience. 'What can you see? What can you see?' He held a pretend walkie-talkie and spoke into it, 'Detective Tanishq to Detective Tanaya. Calling Detective Tanaya.'
'Nothing,' said Tanaya with a sigh. 'He's still writing.'
Tanishq's shoulders drooped and he let go of his mock walkie-talkie. 'Wha-at? Still? I mean … Why do you need to write so much if you're just planning a treasure-hunt?'
Tanaya clicked her tongue. 'And it's not as if he's organising one for the first time. He does it each year! How can it require so much planning?'
For the past week, Mr Natraj had kept the library shut for hours on end, locked up inside with his books. All library visits for prep school and middle school had been cancelled. And every afternoon, when school was over, the library dustbin was full of bits of chart-paper and ribbon. Perseverant spies like Tanaya felt that Mr Natraj was deliberately pretending to be plotting and scheming, just to build the anticipation. Whenever she peeked, if he was not writing, she would see him pacing up and down, rubbing his hands and muttering to himself. His eyes had a strange glint to them, as if he was more excited than the children.
Listen to a story!
Here is a video of me reading one of the stories in the collection, "Treasure Hunt" (excerpt above). The cover in the video is different because that is the Scholastic Asia (not Scholastic India) version, published in 2018.
Related