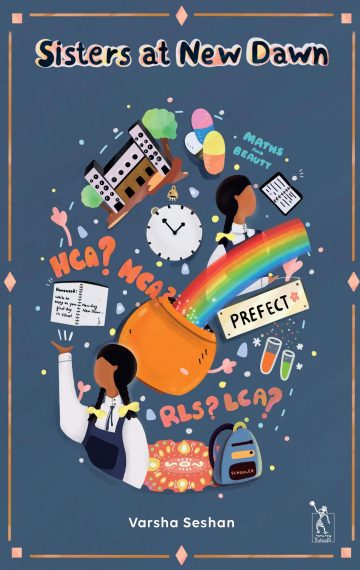 Rs. 345
Publisher:

Zubaan

Edition:

First edition

Available in:

Paperback

ISBN:

978-93-8593-265-6

Published:

February 20, 2020
Pre-order Sisters at New Dawn on Amazon India
As if being the new kids isn't enough, Padma and Kannagi Shankar quickly find that New Dawn High School isn't exactly a regular school. They have weird subjects like 'Pot of Gold' and 'Maths and Beauty' — and some of their classes are taught by students! But it's more strange than bad, and the sisters start to enjoy themselves and make new friends — until a discovery in the library and a few unpleasant encounters make them confused and anxious about both school and family. With their parents far away, and their Thatha not the easiest person to talk to, the girls are forced to look for solutions on their own. But will that be enough, or will their new school soon become their old school?
Review
Book review by Shraddha (Goodreads)
This slim book tells a well-sketched story which quickly grips you.
As you explore a quirky school with Kanna and Padma; they make you smile and frown with them.
I enjoyed reading this!
Excerpt
Pot of Gold (Chapter 4)
"Concentrate," said Ella Mayer, bouncing as she spoke. "Concentrate on the colours of the rainbow."
"What rainbow?" I asked, finally.
I had decided to try Pot of Gold, since Thatha remembered it so vividly from Appa's school days. The teacher, Ella Mayer, looked old enough to have taught Appa herself. She stopped bouncing. "Sorry?"
"I don't see a rainbow," I said loudly. "If this is some sort of replay of The Emperor's New Clothes, I—"
"Ah." Ella Mayer pushed her round silver-rimmed spectacles up her nose. "What is your name and what school do you come from?"
"My name is Kannagi Shankar and I—"
"Kannagi Shankar!" Ella snatched her spectacles off her nose and stared. "Kannagi Shankar," she repeated, in a softer tone.
I lifted my chin and stared back. "Yes."
"It's a shame your previous school did not teach you to raise your hand before speaking."Ella let out an exaggerated sigh. "Will someone in the class please explain what this LCA is about? Yes, Trisha Verma?"
The girl who had backed up Aquila's idea in the RLS class sprang up. "An LCA is a subject that has Low Chances of Application. This means that it does not, perhaps, have a foreseeable practical application."
Had she learnt a guidebook by heart or something?
"For the LCAs," continued Trisha, apparently oblivious to the dramatic yawns around her, "the sixth and the seventh standard students sit together. For the final assessment, students work in pairs. One—"
"Thank you, Trisha Verma, that will do," interrupted Ella.
"But I haven't finished!" protested Trisha.
"As a matter of fact," retorted Ms Ella Mayer, "you have not even begun. I asked you what this LCA was about, not what all the rules of LCAs are. Yes, Daman Pawar, will you
tell the class what this LCA is about?"
A short, mousy-looking boy rose to his feet. With his messy hair and round spectacles, he could have played Harry Potter. "It's about the pot of gold at the end of the rainbow!"
Ella smiled. "Yes, but as Kannagi Shankar pointed out, there is no rainbow that we can see at the moment."
"There may not be a rainbow that we can see, but we can all imagine one, can't we?"
"Kannagi Shankar? Would you care to answer that? We can all imagine a rainbow, can't we?"
"Uh, yes. That is, I can imagine a rainbow." I looked around the room. Everyone was attentive and serious. I closed my eyes for a moment. Either I was crazy or everyone else was.
Listen to the whole chapter
In times of quarantine, children's writers got together to share readings from their books with the hashtag #ThodaReadingCorona
Here is chapter 4 – Pot of Gold.
Related