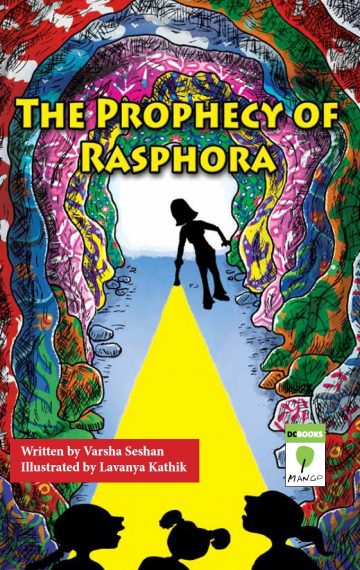 Rs. 225
Publisher:

Mango Books

Edition:

First edition

Available in:

Paperback

ISBN:

978-81-264-7461-5

Published:

April 1, 2018
Buy The Prophecy of Rasphora
Vandana, Afreen and Tara stumble upon Rasphora, a magnificent land behind a waterfall. The prophecy of the land says that it is in grave danger, and the girls must leave their old lives behind if they want to save it. But they are just children – can they really fulfil the prophecy?
Excerpt
Miss let out a low whine as she followed the girl down the dark tunnel.
'Oh my God … Oh my God … Oh my God …' Eyes tightly shut, Tara tried to push down the panic that rose to her throat. 'Miss …? Where are you? I wish I had thought of holding you … Vana … I'm sorry, Vana … Afreen … Sorry … I …'
Tara's eyes were wet when she landed on a soft patch of moss. A second later, Miss landed on top of her. Her heart in her mouth, Tara opened her eyes. She gasped and held Miss close. They were in a place flooded with light, seemingly lit with thousands of little candles.
'Wow …' she breathed.
The sound was drowned out by the thundering waterfall. The magical gushing that they heard on Monkey Hill was gone. In the tunnel, it had been deafening, and at the end of the tunnel, where Tara and Miss had landed, it was not much better. Wide-eyed, Tara looked around. There were no candles. To her right was the waterfall, not the gentle waterfall from Monkey Hill, but one that was wilder than any she had seen before, as if waterfalls from different parts of the hill had come together there. It fell like a translucent curtain, hiding the room from the world outside. There were no flickering candles, only sunlight weaving magic through the waterfall curtain. The rocks, painted in brilliant colours, looked like a million fairies dancing. They turned sunlight, water and colour into magic.
Tara felt rather than heard Miss letting out another whine. Beauty or no beauty, Miss was terrified. There was a knot in Tara's stomach too, but she had forgotten about it as she gazed starry-eyed at the place around her. Looking at Miss, Tara's heart skipped a beat. Gone were the bright eyes and enthusiastic tail-wagging that Tara knew so well. Miss, the friendliest stray on Monkey Hill, who had adopted the three girls and kept them warm on cold nights, was shrinking backwards, tail between her legs, for the first time ever. Looking around, Tara noticed what she had missed all the while.
There were hundreds of pairs of eyes staring at her.
Reviews
"The Prophecy of Rasphora is a story of three girls – Vandana, Afreen and Tara. The protagonists of this magical adventure story are not the typical affluent or upper middle class characters that one often encounters in books of this genre. The girls run a tea stall on the hills and they live a hand-to-mouth existence. They are alone in the world, with no one but each other. However, poverty in childhood does not really have to rob it of its magic right? The girls often escape into a self-created magical world of dreams. Little do they know that their lives are also in for a magical transformation."
– Read the entire review on Bookedforlife
Related