What a puzzling book Shine was! It leaves me all mixed up in terms of what I feel about it.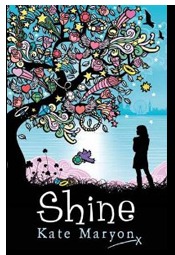 It's a page turner, that's for sure. I began to read and just kept reading without ever stopping. Yet, there were just so many places when I groaned and felt it was too predictable. There were things that were dramatised that were not, I felt, in any way dramatic. There were many places where I felt Nah … This is just too convenient.
But I never write about books that I dislike. In more than one place, despite its predictability and and the tinge of the unrealistic, I found myself moved to tears. I found myself thinking that Shine is such a brave book. How difficult it is to write a story about a girl whose mother is a thief who drinks too much!
Tiff loves her mother. You and me, Mum, you and me … But her mother can be so embarrassing! She pulls off bar codes from things in supermarkets and stuffs things into Tiff's school bag. She casually picks up things here and there and doesn't pay for them. She uses fake credit cards … What is Tiff to do?
I just wish a few things could have been ironed out a bit better: I could have loved the book so much more!
| | |
| --- | --- |
| Title | Shine |
| Author | Kate Maryon |
| Genre | Middle Grade Novel |
| Rating (out of 5) | 3 |
| Age-group | 10+ |