Last week, St. Mary's School officially launched Flickering Flames, an anthology of poems and stories I edited as the facilitator of the Writers' Club. The teachers have their copies already, and I've heard some lovely comments about the book.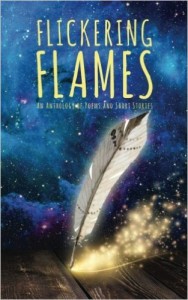 Here's a little about it for those who are reading about this for the first time … In the academic year 2015-16, I started a Writers' Club at St. Mary's School, Pune. We began with nearly sixty girls, but as they discovered how much work goes into writing, they slowly dropped out. Finally, thirteen girls submitted work that was put together in an anthology. As it is the sesquicentennial year of the school, Dr Kinjal Goyal came forward to help us publish it, and now it's a book!
Written entirely by children aged 11-13, Flickering Flames is a collection of all kinds of stories and poems – ranging from the funny to the frightening and touching. Beauty, humour, mystery and adventure: Flickering Flames has all these and more.
If you read it, do review it. Write to me, review it on my Facebook page or on Goodreads, anything!
And if you don't have a copy, here's where you can buy it.
| | |
| --- | --- |
| Title | Flickering Flames |
| Authors | Advaya Venbakkam, Advika Dhar, Ananya Banerjee, Anika Garg, Anushka Shinde, Ashna Bhavnagarwalla, Jayde MacFarland, Lavanya Dua, Pareesa Irani, Rashmin Kaur Juneja, Riva Verma, Samiksha Deshpande, Tejasee Khurjekar |
| Genre | Anthology |
| Publisher | Notion Press |
| Age-group | 9+ |