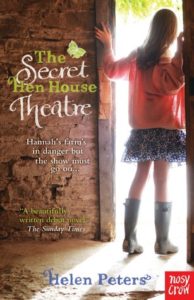 It's been such a long time since a book forced me to stay up and finish reading! I loved The Secret Hen House Theatre. It made me imagine. It got me excited. Yes, there were parts that were uneven, but how does it matter when you're caught up in the emotion and excitement?
I remember reading The Worry Tree some time ago and thinking about children who worry about everything around them. I know so many people like that – people who try to balance everything, make everything okay. Some worry and keep wanting to do something. Some worry and do one thing after another, but the worry still weighs them down.
Hannah from The Secret Hen House Theatre belongs to the second kind. She wants to save her farm, but how can she do that when she wants to act and write plays? What makes it worse is that her mother used to love theatre, but is now dead, and her father seems to hate anything to do with the theatre. This is a farm, not a theatre, he snaps at her.
One thing tumbles into another, and I just kept reading, wondering what would happen, hoping, expecting, laughing … What a sweet book!