There's so much around the corner!
This month, apart from all the regular workshops, I'm going to be part of The Lit Bug Fest!
The Lit Bug Fest is a children's literary fest to be held on the 29th of April at Persistent Systems, Bhageerath, Senapati Bapat Road. It is an all-day event, and I'm looking forward to it!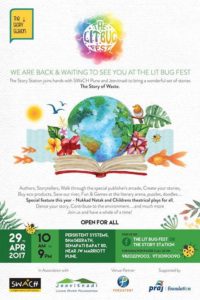 In May, I have wonderful things in store for me too. I'm going to be speaking at the Asian Festival of Children's Content, Singapore.

The first one on the list is Pictionary by another name. I can't quite believe that I'm going to Singapore to officially play Pictionary.
The second is a panel discussion, which I'm looking forward to … We're going to be talking about diversity and inclusiveness, and the challenges we face while writing in Asia – in English or in other languages.
I'm also going to be doing an official international launch for the first time!

Bholu and the Smart Card is the fifth railway adventure for young readers, and I'm going to be launching it at AFCC 2017! It is unfortunately at the same time as the launch of the picture book winners from 2015, but I hope there will be enough people at the festival for there to be a healthy turnout at both events!