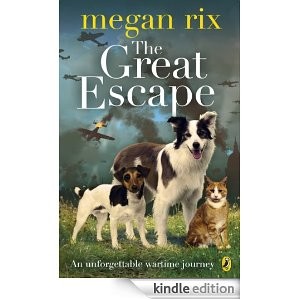 The story of two dogs and a cat during the second world war brought to mind an aspect of war that I had never considered. What happened to all the animals, particularly pets, during the war? Startling statistics that Megan Rix has included after the novel reveal that there were far more animals killed during the war than civilians. By far more, I mean, if I remember correctly, seven times the number.
The Great Escape is a take on this idea, albeit a lighthearted take. The three animals escape from cruelty and danger, making an incredible journey from the city to the country. Adventures are plentiful; pitfalls expose them to human kindness and cruelty.
A tale for children, I think it is a particularly charming read for animal-lovers who want to wear rose-tinted glasses, but want, at the same time, to be aware that that their glasses are tinted!