It's Children's Day; what better time to celebrate a picture book I loved? You Can't take an Elephant on the Bus is one of the books in this year's Reading Challenge collection, and I loved it!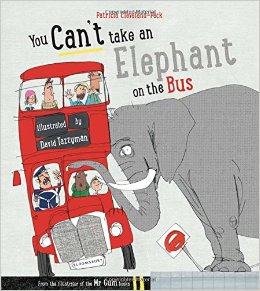 I enjoy picture books that rhyme. I also enjoy whacky books that don't have a hidden agenda – to teach, preach, etc. I love how books express crazy ideas that make me chortle as I read. So naturally, I loved You Can't take an Elephant on the Bus.
The theme for this years Reading Challenge is The Big Friendly Read, and it celebrates 100 years of Roald Dahl. For me, the joy of Dahl lies in his crazy ideas that defy reality and defy parents who want to teach their children through any book they find. I could not wait to start reading the books in the collection, and this one lived up to my expectations!
If you can't take an elephant on a bus, and you can't make a whale ride a bike, how will all the animals in the world travel? This funny picture book will tell you!