The Reading Challenge is back at the British Library, Pune, and this time, the theme is 'The Big Friendly Read'! Celebrating 100 years of Roald Dahl, we have a lovely collection of books as usual. Many feature Dahl characters that I fell in love with as a child, and of course, many others with the wonderful illustrations of Sir Quentin Blake. There are all kinds of stories, though, so even if you've read everything Dahl ever wrote, there will be something for you to read too!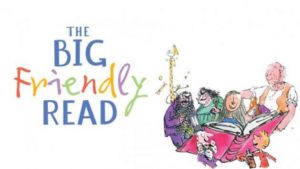 For those who have never taken part in the Reading Challenge, it is an exciting programme conducted every year at the British Library, Pune. If you are anywhere between 5 and 13 years old, you can register. There are two sets of books – junior books and senior books – and all you need to do is finish reading six books in six weeks. If you do, you will get a certificate, maybe even a medal!
I will be conducting an orientation session on Sunday the 13th of November. Contact me if you need more details about it.
If you know already that you want to be part of the Big Friendly Read, then register! Write to swati.salwe@britishcouncil.org or contact the library at (020) 4100 5320. See you at the workshops!