Stunning. Absolutely stunning.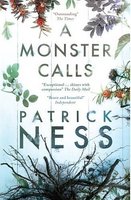 I picked up A Monster Calls in the same way that I pick up all other books – randomly. No one recommended it to me. I read no reviews. I did not read the blurb. Sometimes it's better that way, simply because you have no idea what to expect.
Patrick Ness's A Monster Calls is a truly remarkable book, so remarkable that I cannot write anything about it. It wrung my heart. I sobbed as I held on to the book I had just finished. It was over. I didn't want it to be over.
Young Conor has the same terrifying dream, night after night. And then the monster, which is older than time itself, comes walking. The monster tells him three tales that twist and turn, and frustrate Conor. Yet, each tale is important. And each tale brings him closer to the fourth tale that he himself must tell – the one that's no easy story. It's the truth. The truth of his nightmare. The truth he's been trying to avoid.
| | |
| --- | --- |
| Title | A Monster Calls |
| Author | Patrick Ness |
| Genre | Modern Classic |
| Rating (out of 5) | 5 |
| Age-group | 11+ |