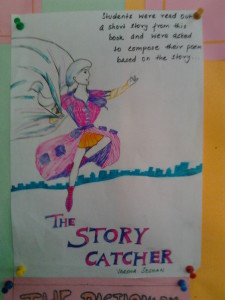 The portion for the exams has been completed; students are fed up with revision. So, a colleague of mine decided to do something different – she read out a story from The Story-Catcher. I was thrilled!
This reading went one step further than 'I loved your story' and 'nice story' and 'I like the story of Sana'. After listening to The Dictionary, the students were expected to write a poem. It had to be inspired by the story, but they could write what they liked.
And so they did. I was waiting to have a look at their work, and that happened in a lovely way too!
On Thursday, a Student Held Conference took place at the school library. The library was jazzed up a little to make it slightly more attractive.
One large notice-board was dedicated to The Story-Catcher. Poems covered the board. One child even made a beautiful copy of the cover illustration. I looked at all the poems in delight, struck by the number of ways in which the children reacted to the story. Some children wrote the whole story in verse. Some chose a section to retell as a poem. Some changed the story into personal experiences. It was marvellous!
What truly touched me was the note all the children had put at the end of their poems – 'Adapted from 'The Dictionary' by Ms Varsha Seshan'.