Talking of Muskaan has been on my to-read list for a long time, and I finally bought it, read it and loved it. It was everything it promised to be – moving, relatable and real.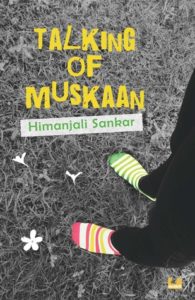 Muskaan knows herself better than a lot of others her age. That does not make life easier for her; in fact, it makes things much more difficult. It is impossible for her to pretend to be something she is not. More importantly, why should she need to?
But it's the people around her – her "friends" – that make all the difference. She doesn't come out about her sexuality to everyone, yet rumours spread and whispers grow louder …
I love the range of characters in the book, touching almost every kind of person I know. Aaliya – determined to be heterosexual because she believes she can convince herself. Subhojoy – empathetic without being an activist. Rashika – the peacemaker who wishes things could just be sorted out. And all the others, ranging from openly conservative to outwardly liberal. How easy it is to be a liberal intellectual and do nothing because you "don't really know people like that"! How angry you can get with 377 and how vocal!
Each character rang true – whether I looked at them through their own eyes or from the outside.
Next on my to-read list is Slightly Burnt, though I don't know when I'll read it!
| | |
| --- | --- |
| Title | Talking of Muskaan |
| Author | Himanjali Sankar |
| Genre | Young adult fiction |
| Rating (out of 5) | 5 |
| Age-group | 13+ |