What is it about Georgette Heyer that she can turn imagination into language so brilliantly?
I reread another Georgette Heyer, before reading Simon the Coldheart, and found myself skipping large sections of it. I think time has made me a little uncomfortable with the romance that she portrays. I squirm more than a little, and run my eyes over the pages sometimes, without reading much. I realise I don't like her ideas of mastery in romance or the way in which so many of the heroines just seem to give in.
Yet, I enjoy Georgette Heyer.Why?
Each page sparkles with fun. I love the humour; laughter rises to my throat time and time again. Those are the answers that come to me instinctively.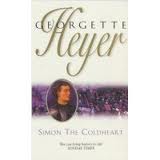 But Simon the Coldheart is not one of those novels. It's not one of those with joyous gurgles of laughter. It's one in which the romantic element kicks in quite late in the novel. But I read on and on, devouring word after word.
Simon, determined, brave, decidedly un-human. Wonderfully engaging, and in some way, intriguing, with every step he takes. Ambitious and – almost – uncaring.
Georgette Heyer keeps me reading. It's not the first time I'm reading the book. It isn't likely to be the last time either. Hats off to her.