No, I have not yet Pippi Longstocking. Maybe I should apologise. In my defence, I have wanted to read it for very long.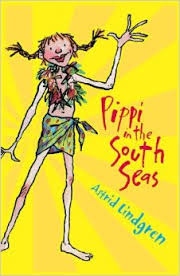 When I read Pippi in the South Seas, I realised why it's so famous and why so many people love it so much. Pippi is a classic in a world of her own. She is not like Anne of Green Gables. She is not like Sara, the little princess; nor is she like Little Lord Fauntleroy. She is in a class of her own.
During the very first chapter of Pippi in the South Seas, I was chuckling aloud.
Yes, there were parts that I did not enjoy.
Yes, I found some parts a little outdated.
Yet, the story is so charming, and Pippi makes for such a vivacious protagonist, that all in all, I'm ready for more stories featuring Pippi Longstocking! From red hair that sticks out in two plaits to a fierce independence that marks Pippi's character, the book was a treat from start to finish.