The Kalakshetra troupe performed in Pune for the first time last evening. Finally.
When I watch them dance, I understand.
I understand why Kalakshetra is such a reputed name in the dance world.
I am awed by the vision of Rukmini Devi, and her incredible imagination.
I see dance as architecture, performance and storytelling.
I am moved to laughter and tears, empathy and revulsion.
I don't particularly like the Ramayana as a story.
I find Sita a rather insipid character, whimsical and petulant.
Rama, to me, is too good to be true. Too much of an unbelievable mixture of human and god.
I am revolted time and again by the way Rama and Lakshmana taunt the rakshasi Surpanakha before shaming her.
There is too much wrong with the story, for me.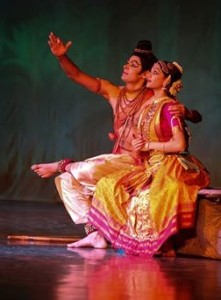 Yet, on stage, it is divine. The characters are living, breathing individuals.
Sita, roused to anger, is formidable. In love, she wins my heart. Her sorrow is piteous.
Ravana, king of the rakshasas, is a splendid character. Kathakali dancers bring pure energy to the stage, drawing the audience into Ravana's power and magnificence.
Subtlety of expression in each movement mingles with the energy of the best of Bharatanatyam and Kathakali.
Classical dance unites with the accessibility of drama.
Brilliant choreography comes together with attention to exquisite detail of footwork, costumes and music.
Jatayu Moksham last evening was an experience of pure rasa.