A Ghantaghar, a huge clock tower, stands at the centre of the market at Jodhpur. In my mother's time, there were camels around the Ghantaghar too, but now, I can barely imagine there being enough room for a goat, let alone a camel!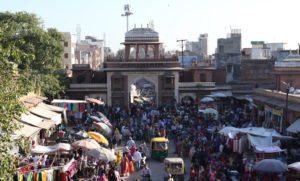 The clock cost three lakhs way back in 1911. One lakh was paid for the making of the clock in London, one lakh was paid to have it installed in Jodhpur, and one lakh was paid to ensure that a clock like that was never made again! From the Mehrangarh Fort, we saw it standing out of the Blue City. That's when I knew I wanted to visit it.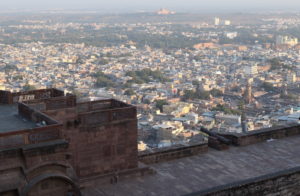 As darkness began to fall, we saw it lit up in all its glory. It was magnificent!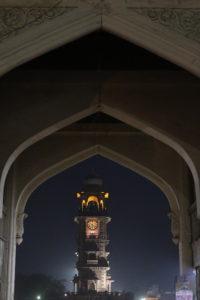 And, loveliest of all, we read a board there saying that one could climb to the top between about 10:30 and 5:30 on any day except Saturday! So we went back the next day at 4:15, and stayed there for over 45 minutes.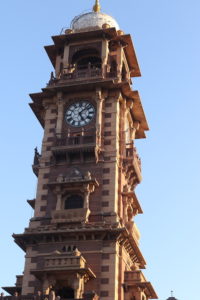 Why did we spend that long?
For one, the Ghantaghar offers a beautiful view of the busy market. There are colours everywhere! Bangle stalls, blanket shops, jewellery stalls … It's simply charming. What isn't so charming, though, is all the noise. I'm convinced that special, louder horns are installed in vehicles in both Jodhpur and Jaipur, and everyone honks all the time!
The other reason we spent forty-five minutes there is that the clock chimes every quarter, and the sound was so sweet that I wanted to listen to it chime the hour. From the noisy marketplace, that seemed impossible, so we just stayed up on the tower to listen. It chimes twice at the quarter hour, four times at the half hour, six times at 45, and eight times when an hour is completed. And after those eight gentle tones, it chimes resonantly, indicating the hour. It was the highlight of my second day at Jodhpur!
| | |
| --- | --- |
| Cost per adult (Indian) | Rs 10 |
| Still camera | Rs 0 |
| Time to visit | About 10-5 (depends on the season); closed on Saturday |
| Visit duration | We spent just about 45 minutes. Most people spend just fifteen! |