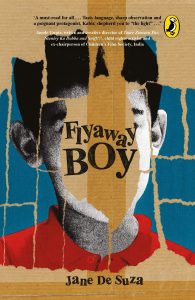 What an unexpected book!
I've been meaning to read Flyaway Boy for a while, but technological problems came in the way. I bought a Kindle edition only to learn that the ebook is not compatible with my Kindle, which meant that I had to read it on my laptop. Sitting at my laptop and reading doesn't feel like reading at all. It feels like I'm working, even though I do so much that is not work when I'm at my laptop. I love to lounge and read and my laptop isn't really conducive to that.
But Flyaway Boy was a delight. I took a while to read it, much longer than I would have over a physical book, but I thoroughly enjoyed it.
I chuckled at the audacity of the book, revelling in how it surprised a laugh out of me at the oddest of places. The protagonist Kabir is a joy. He's a child after my own heart, a dreamer, an imaginer, a starry-eyed free spirit. But more, I love the storytelling, which is as unconventional as Kabir himself. Who is the narrator, really? And is the narrator really having a conversation with me?
Once in a while, Kabir tries to fit into a proper labelled box, like all the others. But more often than not, he's too busy being him to remember boxes and labels. His runaway imagination defies school and everything that it stands for, even if it means that his parents seem to be at their wits' end with him.
Full of both innocence and maturity, Flyaway Boy warmed my heart with its simplicity and that most joyful emotion of all, love.
| | |
| --- | --- |
| Title | Flyaway Boy |
| Author | Jane De Suza |
| Tags | Chapter book, humour, imagination |
| Rating (out of 5) | 4 |
| Age-group | 8+ |