No other title do they know,
The refrain is scarcely new –
Tho the chances are their knowledge
Came from a book review;
They ask me if I've read it –
I humbly whisper "No"
(Thank God, again I've said it!)
They clap their hands and glow.
– From Louis L'Amour's "I Haven't Read Gone with the Wind"
Unlike Mr L'Amour, I have read Gone with the Wind.
Not once, but several times, I think.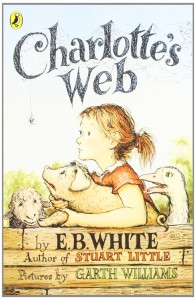 But when it comes to
Charlotte's Web
, the poem reaches out to me and makes me cry out, "Yes! Yes! Yes!"
People who have read nothing else have asked me if I have read Charlotte's Web. And yes, once or twice, I have been pressured into saying that I have, deriving my opinion from 60 seconds of an animated movie I watched.
Finally, though, I read it.
It's a sweet book, there's no denying that. Yet, the overwhelming feeling of relief is much stronger than any other emotion I feel. An easy, comfortable read, Charlotte's Web combines many ideas that children adore – friendship, talking to animals, and love.
Despite that, I assure you, if you haven't read
Charlotte's Web
, it's okay.
It's a charming book, sure, but if you haven't read it, I won't clap my hands and glow.