As Gratiano didn't quite say, I love this book, and 'tis my love that speaks.
I loved the book, but I did have issues with it – issues that made shuffle uncomfortably.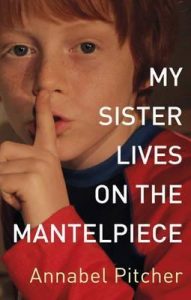 As I read My Sister Lives on the Mantelpiece, I think the first thing that startled me was the imagery that seems to compare Sunya to a present and her hijab to sparkly wrapping paper. Honestly, I don't know why the line bothered me so much. It seems so inoffensive there, not really objectifying, not really saying anything that could be so disconcerting. But I think that exactly was the problem for me – that there was nothing wrong with thinking about a person like a present, an object.
The second thing that bothered me was the way Jamie wants to defend someone his father calls a 'Paki'. She may not be a Paki. That made all kinds of bells ring within me. I remembered a piece I read about a girl who was asked about her black father and her white mother, and she 'defended' them by saying that her father was not black; he was brown, and her mother was not white; she was yellow. What kind of defence is that? Brown is better because it's less black? Or a white would not be seen with a black, but a 'yellow' was okay?
That's what I felt here too. Jamie's father offensively calls someone Paki, and the defence that springs up is that she is not Paki … I have a problem there. So what if she is Pakistani?
I know there will be people who say that I read too much into it. Perhaps it's true. And perhaps that's exactly what Annabel Pitcher is trying to show. Maybe she's trying to say that this is reality. Notice it and get upset. Else you won't do anything about it.
But yes, I loved the book. It shows us that children can love without prejudice, given half a chance. And that's what gives us hope. I loved the idea, the realism and the poignancy. It surprised me time and again, and who does not love a story that does that?