I don't usually like thick hardbound books. They are daunting and, usually, boring.
As soon as I make that statement, though, I realise how many exceptions there are.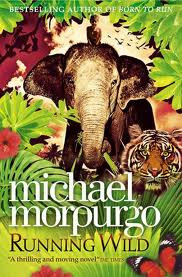 Running Wild is one of them. It has pages and pages of description, but not once was I bored.
Morpurgo, at the end of the book, talks of his motivation for this novel.
He talks about The Jungle Book, about his fascination for elephants, about the Iraq war, the Indonesian tsunami and the impending extinction of orangutans. Running Wild brings together all these.
After a long time, I felt rage, a lump in my throat, relief, joy and excitement in the course of a single story. I was excited about, filled with grief for, repelled by and at peace with the story of a young boy in a jungle in Indonesia. Oona the elephant won my heart over and over again making me wonder if it's possible to look at an elephant in the wild in all its gentleness and not be inspired by it.
Some day, I hope to write about an elephant too. I don't know when that will be, but I will.