When I first read Mary Higgins Clark, I remember how amazed I was. All Around the Town remains one of the most powerful books of all time in my memory.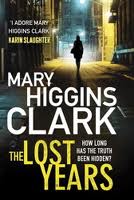 Yet, when I read this, there was the sense of something artificial. As craft, detective fiction shines. I enjoyed the intricacy of the narrative. Romance within a detective novel adds a little sugar and a little spice. Wondering who-what-why keeps the brain alive. Following Mariah's life as an investment advisor with a mother who has Alzheimer's is absorbing. I was curious about the precious parchment, supposedly the only letter ever written by Jesus Christ.
But The Lost Years did not touch that core of my being that I want fiction to touch. The romance was interesting, not exciting. Mariah's life was absorbing, not moving. The history was background, not intriguing.
Detective fiction remains, for me, craft – not art. 'Syntactic' narrative, one of my teachers once explained to me. All the loose ends are securely tightened; there's a feeling of utter completeness when I finish. There is a sense of contented justice and intellectual satisfaction. Perhaps it's unfair to expect any more.