The story of how I got my hands on The Misfits is a tale in itself. I ordered it during the Zubaan Women's Day sale, and it was dispatched about a week later. With the lockdown and then Nisarga, it never came. There was no way to track it and quite honestly, I didn't try very much. It was too tiny a problem to worry about when it felt like the world was collapsing around us. I just gave up, figuring that I would order the book again some other time.
And then, out of the blue, on the 14th of June, a little over 3 months after I placed my order, I got a call from a courier company saying my parcel was at the gate. The cardboard cover was slightly worse for wear, but my books were intact!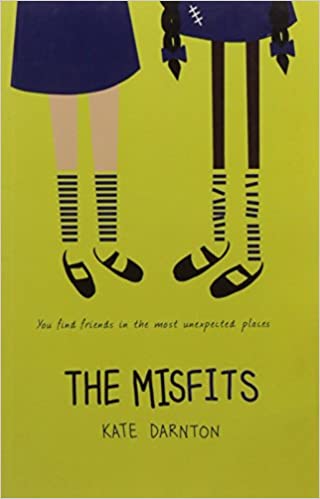 And I loved The Misfits. It was perfect in so many ways. It's the story of very real children in a very real school. We see two misfits in particular: one who tries to belong and one who realises that she'll never fit in anyway.
When Chloe moves from Boston to New Delhi, everything is bewildering and annoying. Apart from anything else, there's a boy who insists on calling her chhole. Chloe can't speak Hindi, but she knows what chhole means, and more importantly – that is not her name! Nothing about the world around her fits in with the idea of India that she had, and Chloe just wants familiarity, something she can link with home.
And so, Chloe decides that she wants to make friends with super-rich Anvi Saxena because at least Anvi has been to the US several times. Surely, they would have something in common! But Anvi's version of America is Universal Studios, Disneyland and Broadway, none of which was part of Chloe's life in Boston. Even so, Chloe hangs on to the hope that Anvi and she can be friends, somehow.
Enter Lakshmi, another misfit, but one who does not try to fit in. She is an outcast in school and in the beginning, Chloe does not know why. Lakshmi's uniform looks old and tattered. Her hair is oiled and plaited. And no one talks to her. She is, Chloe later learns, from EWS – the Economically Weaker Section.
The story of two very different misfits who somehow become friends is heartwarming. Chloe, guiltily, is still too pressured to be friends with Lakshmi in school, but they hang out in the park afterwards, and Lakshmi even comes home. Yet, there comes a point when Chloe has to decide what is more important to her: her friendship with Lakshmi or Anvi's opinion of her.
I loved how authentic the whole narrative feels (except for one tiny jarring moment for me, when the driver Vijay appears with a baseball bat. How? What? A baseball bat? I explained that away to myself by saying that he works for an American family after all). I love that the characters, even the protagonists aren't super-woke, for it rings true. We see things from Chloe's point of view, and the generalisations she makes remind us of how the need to be accepted and a longing for friends come together to make school what it is.
| | |
| --- | --- |
| Title | The Misfits |
| Author | Kate Darnton |
| Tags | Middle grade, School Fiction, RTE |
| Rating (out of 5) | 5 |
| Age-group | 10+ |