The first book I read by Emma Carroll was The Girl Who Walked on Air, and I loved it enough for it to have been one of the top ten middle-grade books I read in 2018. As a child, I devoured Galliano's Circus and I picked up the book with nothing in mind other than the fun of exploring another, different circus.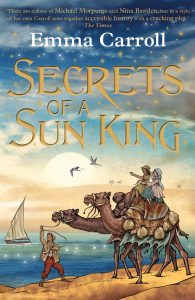 When I saw Secrets of a Sun King at Lightroom, a delightful children's bookstore in Bengaluru, I recognised Emma Carroll's name and after a very slight hesitation, I decided to pick it up. I'm glad I did.

In the Q&A section at the end of the book, Emma Carroll talks of the challenges of writing a book about Tutankhamen. The boy king is shrouded in intrigue, and countless stories have been written about and around him. The young pharaoh's tomb revealed unimaginable treasures, and incredibly, the boy's heart is missing. That forms the seed of all kinds of stories, doesn't it?
Archaeologist Howard Carter, known to be a difficult man, discovered Tutankhamen's tomb in 1922, and this moment in history is relevant, for Egypt got independence from Britain in the same year. The mood of the nation is electric, for why are the erstwhile rulers robbing tombs of an ancient civilisation that is not even on their soil?
Against this backdrop, Emma Carroll sets her story of three children and their link with Tutankhamen and two of his friends. Though much of the story is fictionalised, a lot of historical elements find their way in, like the effect of the first World War on Britain. Women are now more independent than ever before, and many men who return from war have changed. In the story as in history, Howard Carter is making sensational discoveries in Egypt, closely followed by media personnel.
While Carter steals the limelight, the three children of the story, Lil, Tulip and Oz, must reverse the effects of a curse that fell on Lil's Grandpa when he dared to rob Tutankhamen's tomb several years earlier. The children need to make their way from London to Egypt to put a jar back in the pharaoh's tomb for the jar does not belong to them. Weaving in elements of Tutankhamen's missing heart and a curse that seems to be linked to his tomb, Secrets of a Sun King is the story of two sun kings – Tutankhamen who, with all the mystery around him, somehow overshadows other pharaohs; and Howard Carter who dazzles the world with his presence and sensationalism.
Just like The Girl Who Walked on Air, what drew me into Secrets of a Sun King were the universal elements of love and family. Friendship, family and the discovery of secrets make the story what it is.