Jack hates it when his parents row. He wants to hide away from all the shouting, crying and smashing of plates. It is no different for his little sister Ruby. When their parents fight downstairs, Ruby sneaks into Jack's room, afraid and anxious.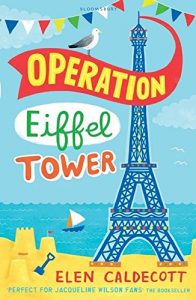 Jack knows that somehow, he has to get his parents together again. They were in love once; what changed? Is it … could it be … that there are too many children? Are Lauren, Jack, Ruby and little Billy the real problem?
Lauren and Jack, being the oldest, come up with a plan to get their parents together again, a plan called 'Operation Eiffel Tower'. Paris is the most romantic place in the world and Lauren's teen magazine tells her that dinner in Paris is guaranteed to bring the spark back into any relationship. The problem is that the children need to put together two hundred pounds to make it happen. Operation Eiffel Tower is the story of how they do it.
Full of warmth and sensitively told, Operation Eiffel Tower spoke to me of the anxiety of being a child and feeling responsible for everything that goes wrong. Jack learns about reaching out to hearts and minds – about how when people are angry, their hearts take over completely, making them unreasonable and illogical. All Jack wants is to bring his family together again; can he reach out to his parents' minds and make them lay aside their anger for a while so that they talk instead of shouting?
The children's determination, the plans they make, the humour that weaves its way through the story … I loved all of it. Operation Eiffel Tower is a sweet story that demonstrates that happily-ever-afters can come in many different forms.