How does one begin to write about a book as powerful as Invisible People? Stories of hope and courage – that's what the cover promises, yet I did not expect to be moved as much as I was. I knew I would come across extraordinary stories because I have faith in the fact that there are extraordinary people in this world. But Invisible People? Each story moved me so much that I had to look away, swallow a gulp in my throat, and just feel all those thousands of emotions that make me human, before I could read on.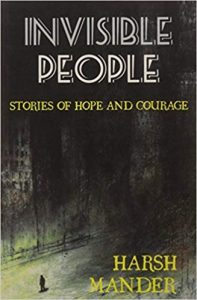 In the preface, author Harsh Mander says that none of the stories in the book is fictionalised. At most, names have been changed to preserve confidentiality; other than that, the stories are true to reality.
And every one of these stories shows us one thing: that when human beings are at their cruellest and most brutal, there emerge other human beings who redefine what it means to be human. One of the stories that stayed with me is the story of Pooja Raju, who was thrashed for doing badly at school. Her father suspended her from a ceiling fan to punish her. She ran away — and went on to win three medals at the 2015 Special Olympics Summer Games.
The worst – and best – stories were the ones that have their starting-point in 2002, in the Godhra riots. I am old enough to know about the riots, yes, and I remember conversations with my family about how the law must follow the doctrine of 'innocent until proven guilty', but how we need to use our own discernment when it comes to morality. Justice is one thing, but power is, unfortunately, another. With people in power, we need to think about what constitutes proof.
I kept thinking, feeling, rethinking … The worst of times brings out the best in people. Invisible People is such a poignant, heartrending read.
| | |
| --- | --- |
| Title | Invisible People |
| Author | Harsh Mander |
| Genre | Non-fiction |
| Rating (out of 5) | 5 |
| Age-group | YA/Adult |