Recently, I wrote about rereading The Goldsmith's Daughter by Tanya Landman and looking out for more books by her. I almost didn't pick up Hell and High Water because the cover did not catch my eye. Only when I noticed the name of the writer did I pick up the book–and I'm so glad I did.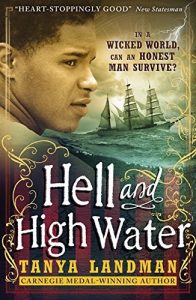 Hell and High Water was just as good as Apache and The Goldsmith's Daughter. It is told from the point of view of a "darkie" Caleb, a boy of mixed race.
When Caleb's Pa is transported as a convict for a crime he did not commit, Caleb learns of the existence of his aunt Anne, who Pa is sure will help him.
The fifteen-year-old boy finds his aunt but is soon drawn into a wicked world where the wealthiest of criminals perform heinous deeds without being punished, while the poorest suffer for the slightest of crimes. Along with his aunt's step-daughter Letty, Caleb is determined to expose and punish the high-handed aristocrat who has brought about the ruin of their family. As they investigate, though, they discover just how murky the world around them is.
When well written, historical fiction sparkles. It brings alive snippets and facts, making them feel real and true. For instance, the year 1752 has always intrigued me. It was the year when people in England went to bed on Wednesday the 2nd of September and woke up on Thursday the 14th of September because the calendar was advanced to align with other nations. What I never considered, though, was that people who earned daily wages still needed to pay rent for a whole month without having earned a month's salary.
With Caleb and Letty, I was drawn into the awful life of a poor tenant in 18th century England. In a society steeped in racial prejudice, heartless aristocrats and corruption thrive. Yet, the human spirit can and does triumph. Hell and High Water is a beautiful, pacy read, a testament to the tenacity of human beings and a reaffirmation of the power of love.
| | |
| --- | --- |
| Title | Hell and High Water |
| Author | Tanya Landman |
| Genre | Historical Fiction |
| Rating (out of 5) | 5 |
| Age-group | 12+ |