Priya knows that her father is dead. She is a 'post-humorous' child, as she calls herself until her mother gently corrects her, saying that it is 'posthumous', not post-humorous – and that she isn't posthumous anyway. Her father is alive, and has just found out that he has a daughter. Worse, he wants not only to meet her, but also to get to know her. And Priya, man-hating as she is convinced she is, knows that this spells bad news.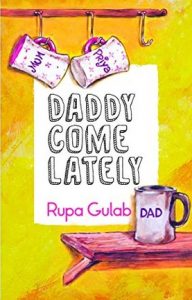 Characters leap out of the pages of Daddy Come Lately, and so many of them are wonderful!
Priya is (mostly) a fun character. There is one bit towards the end of the book where she behaves a little more melodramatically than I would like, but that takes little away from how real she is.
Mr Sarkar, aka Dad the Bad, is a wonderful character, and that makes me wish I had written this post in time for Father's Day. An independent, no-nonsense dad, he strikes me as one of the most interesting fathers I've read in children's literature. (Not the most loveable, perhaps, but certainly among the most interesting.)
Crazy Pinkymasi is charming too, and she is another character who brings the book to life.
Yet, the best-drawn character, I feel, is the mum Tanu. Strong and independent, Tanu is a complete character, wholly believable, more so because of her flaws. She tells lies, she hides, she avoids dealing with conflict … She is unlike any other mother I've read in fiction – primarily because through it all, she loves Priya and is really a supermom, raising a daughter as a single parent. I love her!
With all its super characters, Daddy Come Lately was a warm, fun book and I continued to linger in Priya's Delhi long after I'd finished reading the story.
| | |
| --- | --- |
| Title | Daddy Come Lately |
| Author | Rupa Gulab |
| Genre | Contemporary Indian Fiction |
| Rating (out of 5) | 4 |
| Age-group | 12+ |