Five months ago, an editor mentioned to me that publishers in India believe that Asian literature, apart from books written in the subcontinent, will not sell. I was taken aback by the idea, but I didn't know what to say. I had not thought about it at all, so I did not have an opinion.
Naturally, the conversation got me thinking. What was the last book I read that was Asian, but not from the subcontinent?
I thought of Chinese Cinderella and The Joy Luck Club. Both long ago.
It was time to change that. I began with Pachinko and liked it a lot. I wanted to read more, particularly children's literature. The best place to begin, I thought, was the Scholastic Asian Book Award, so I began my research.
I found only three books that were affordable, and wondered, would that be one of the reasons I haven't read much Asian literature that does not hail from the subcontinent?
I began to talk to other people about it, and they reluctantly admitted that they probably would not go out and buy literature that seemed remotely Chinese.
"Chinese?" they said. "No, not really."

Isn't literature supposed to blur boundaries? Isn't it supposed to show us wonderful new things?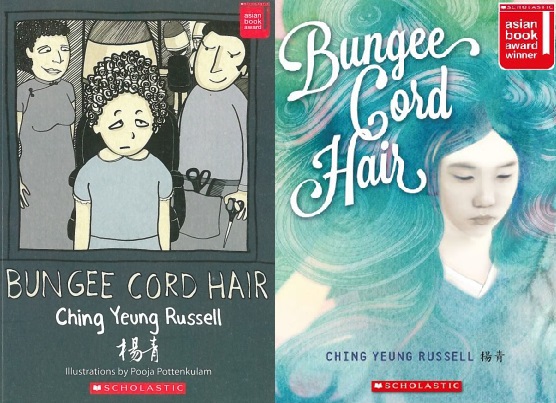 I began with Bungee Cord Hair because it was easily available. I'm glad I started there because it's no longer available anywhere that I can see.
I enjoyed it tremendously. Winner of the Scholastic Asian Book Award 2012, it is a verse novel based on the author's journey as a writer. When the narrator, a twelve-year-old girl, moves to Hong Kong from the Mainland, she is confused. She is happy to be with her mother, but she misses her home and her grandmother, her Ah Pau.
It is soon clear to the girl that she is, in all likelihood, never going to return to the Mainland. Her mother gets her hair cut and styled so that she does not immediately look like she's just come from the Mainland, but at school, her accent gives her away repeatedly, and she is mocked for being a Communist Girl.
When she is told that she must start working at a factory, ironing and folding gloves, she is torn between her dream of becoming a writer and her desire to keep her parents happy. Identity, loss, longing and perseverance–aren't these themes universal?
| | |
| --- | --- |
| Title | Bungee Cord Hair |
| Author | Ching Yeung Russell |
| Genre | Verse Novel |
| Rating (out of 5) | 4 |
| Age-group | 10+ |