AFCC 2017 had a charming activity that was open to the public. Pick up a public programme and explore the book fair, programme in hand. As you visit each stall, get your book fair map stamped. If you're among the first 20 to get all the stamps, you win a book voucher worth ten dollars!
Walking through the book fair reminded me of all the times my parents took me to bookshops – and once, to a book-ship. This time, I was drawn more to the picture books than anything else, and I ended up buying one picture book and one chapter book. Both were simply lovely!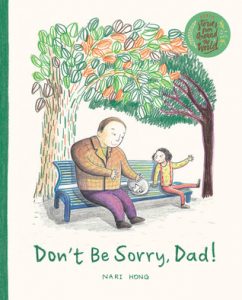 Shortlisted for the AFCC Asian Children's Book Award by Genting Singapore, Don't Be Sorry, Dad! is now right up there with my favourite picture books. Little Nari loves time with her dad, but he keeps apologising to her because there are many things he cannot do, unlike other dads. But Nari loves to spend time with her wheelchair-bound dad, and keeps saying, "Don't be sorry, Dad!"
| | |
| --- | --- |
| Title | Don't Be Sorry, Dad! |
| Author | Nari Hong |
| Genre | Picture book |
| Rating (out of 5) | 5 |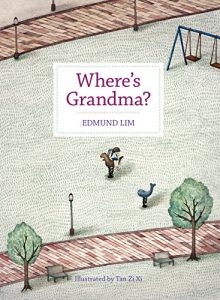 The second book we picked up at the fair was a chapter book, Where's Grandma? A sweet and important book, this was one recommended by Maria Alessandrino during her session on reading and empathy. It's the story of a young boy coming to terms with his grandmother's memory loss, diagnosed as the incurable Alzheimer's disease. I loved the part where Luke decides not to play computer games and to make potato curry with his grandma instead. That's the moment when I feel that the bond between the young boy and his grandma is at its most poignant. It's an open-ended book, and I like it all the better for that!
| | |
| --- | --- |
| Title | Where's Grandma? |
| Author | Edmund Lim |
| Genre | Chapter book |
| Rating (out of 5) | 4 |
| Age-group | 4+ |