A whole year with my first batch of the Writers' Club at St. Mary's School is over! We've written all kinds of things. I've put a few pieces up on my blog; I've made the girls write and rewrite, write and rewrite … We did poetry, prose and drama. We worked with back stories, plot and setting. We played all kinds of games and we did all kinds of activities.
And it was fun.
During my first session, 60 children showed up. I knew many of them would not keep at it. I reminded them, several times, that if their compositions improved, or they began to write answers better, these would be side benefits. I warned them that I expected assignments to be submitted on time.
And finally, about 15 stuck with it. They continued to attend sessions, even though writing regularly was tough, and I kept making them rework their pieces. During the orientation for the next batch, the girls kept saying, "Make sure you submit your assignments on time. If you don't …" They shrugged. "Miss doesn't punish. But she doesn't read work submitted late, and that's worse than a punishment!"
Here are the girls who kept at it!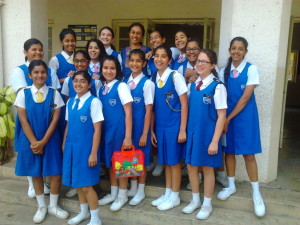 And meanwhile, the next chapter of the Writers' Club is all set to begin. We have something new this time. Something unheard of, at least in my time at St. Mary's School … The boys and girls will attend my sessions together! Here's to another year of writing and fun!