I love the concept of the language week that is held at Symbiosis International School. The students organised a language quiz; they explored the cultures associated with different languages; they had competitions … And I was invited my to conduct creative writing workshops for grade VIII. In November last year, I conducted reading workshops with grade VII and thoroughly enjoyed myself, so I was sure these would be fun too!
As I was going to be there anyway, I was also asked to judge an event, and it was wonderful! Students of the seventh grade dressed up as characters from books and made speeches or enacted scenes. It was such fun! From the moment each character walked into the room, my brain began to whir. Who could this be? What book is s/he from? From the prince and the pauper to Frankenstein, Ebenezer Scrooge, Elizabeth Bennett and Mark Antony, I had a lovely morning, immersed in stories of all kinds!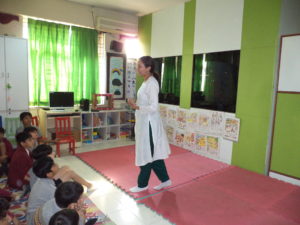 The workshop was lovely too – working on technique, structure and, of course, imagination. I love the creative energy that runs like a hot wire through the participants when they sit by themselves to write. We explored the process of creativity and why people write, or create art in any form. It was a wonderful day!